Secret Wartime Britain
Colin Philpott
Published by Pen and Sword 2018, price £25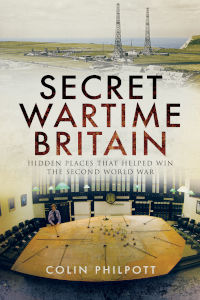 Secret Wartime Britain is an impressive record of the many locations across the country which were involved in Britain's fight for survival and democratic values in the Second World War. Grouped under themes such as factories, command centres, decoys and internment, and illustrated with a large number of black and white photographs, some from the time and others more recent, sites receive an individual commentary about how they slotted into the war effort. In this respect, the text is a comprehensive work of reference about the many surprising places that contributed to victory in the war.
If this book was only an encyclopaedic work of reference it would be valuable for pulling together the material the author has collected. However, the narrative is far, far, more than merely a list or catalogue. The strength of the author's approach is in addressing the very pertinent question of how secret intelligence work, manufacturing on an industrial scale and military planning could be so successfully hidden in plain sight. The prevailing culture of deference to authority, supplemented by some pieces of draconian legislation and effective propaganda campaigns on the home front, were all important. The overwhelming recognition by ordinary citizens that those on the fighting front would be best served by a lack of careless talk, speculation and public pessimism enabled sensitive work to be carried out largely unnoticed.
As for the continuing secrecy for decades after sensitive work had finished, many of those involved, whether in combat or in back room roles, were only too pleased to be able to leave behind them tasks that were repetitive or not enjoyable at that time and pick up their lives again.
An interesting facet of the book is that the author had not flinched from including a few aspects of the war effort where those involved may have fallen short of upholding high standards in their work. By not ignoring the ethical question of whether the ends justify the means, the narrative becomes linked to present times when the moral dimensions of conflict are much more publicly debated.
Secret Wartime Britain is a book which can be read as a complete narrative or dipped into chapter by chapter depending on each individual's interest. It is a fascinating book on first reading and one which would be worth returning to in the future.