A History of Adoption in England and Wales 1850-1961
Gill Rossini
Pen and Sword Books 2014, price £19.99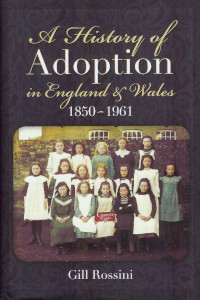 Adoption is a difficult topic to research. Because of the sensitive information they may contain, official records often remain closed for many decades. Oral history passed down within a family can be unreliable.
Gill Rossini's book helps to demystify the various, and sometimes surprising, ways in which a child might become a member of another family, formally or informally. It also included studies showing how an adoption might have worked out (or not) in practice, and the steps which moved adoption from being an informal transaction through to one which was legally sanctioned. It also provides a considerable amount of practical advice for anyone who wishes to research adoption, whether of a specific person, or as a general study.
Overall, the book is a useful addition to a family historian's library and one which might provoke a question or two about someone in the family tree.